Masterclasses Now Available
Boost your NLP business with our Masterclass Series
Are you thinking about becoming a professional trainer or a coach, but you're unsure of where to start? Or are you already on a journey to setting up your business but are struggling to find clients or build communities to grow your NLP business?
If you're experiencing these things, our Business Masterclass Series is designed exactly for you. We will help you build a business that aligns with what you truly desire as a full-time professional NLP coach or trainer to bring your vision and impact to life. No matter where you are in your journey of being a professional coach or trainer – whether you are just starting out, haven't begun yet, or are looking to take your business to the next level – you don't want to miss out on these 4 exclusive NLP Masterclasses!
This experience is designed to equip NLP professionals with valuable insights, tools and techniques so we can help you facilitate and accelerate the impact that you create in the lives of people through your NLP business. This series brings together 4 of the top NLP trainers & coaches from around the world to share their secrets to success, business strategies and transformational frameworks and will focus on 4 key aspects to help you build and grow your NLP and coaching business.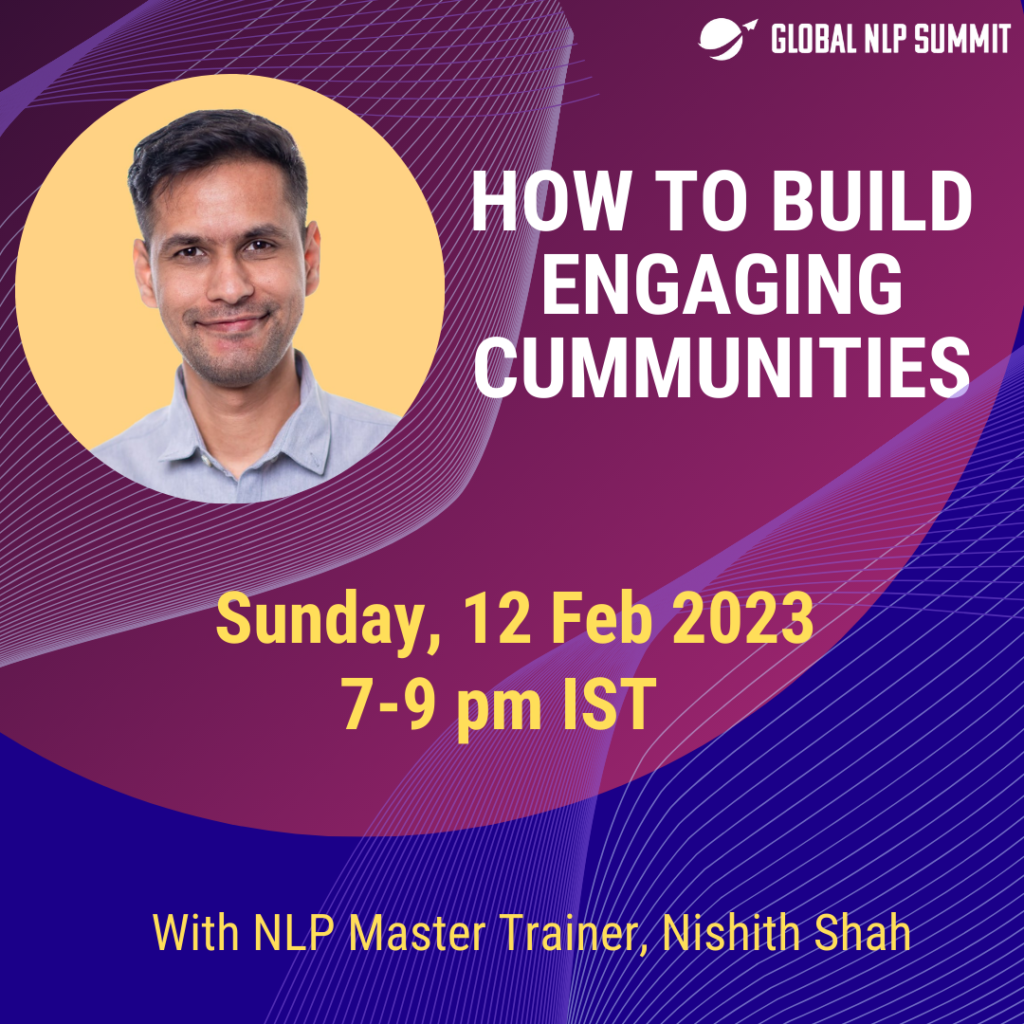 HOW TO BUILD ENGAGING COMMUNITIES
NLP Business Masterclass with Nishith Shah
Nishith Shah has been training in the field of NLP for over two decades. On his journey, he has helped people create breakthroughs in their goals through online workshops and uniquely crafted experiential learning retreats all over the world, including – Bangalore, Himalayas and Goa in India,  in Thailand and in Switzerland.
Through his vast experience he has mastered the art of creating connection and building strong, diverse communities that encourage ongoing growth and support for people to stay connected with their vision.
In this NLP Business Masterclass, Nishith will share his secrets to the structure behind building communities that engage, sustain and create powerful spaces for people to experience transformation.
HOW TO SELL YOUR NLP SERVICES
NLP Business Masterclass with Fiona Campbell
Fiona Campbell has spent many years supporting the business community with the power of NLP. She delivers a range of corporate NLP based online courses as well as self-learning online tools to help business and coaching professionals to achieve their true potential.
Fiona currently offers a blend of diverse online and workshop-based NLP courses. And this makes her one of the best NLP professionals to learn from, on how best to sell your NLP services.
In this NLP Business Masterclass, Fiona will get you to the clarity you need from figuring out what you offer and how your client will benefit to knowing how to close a sale!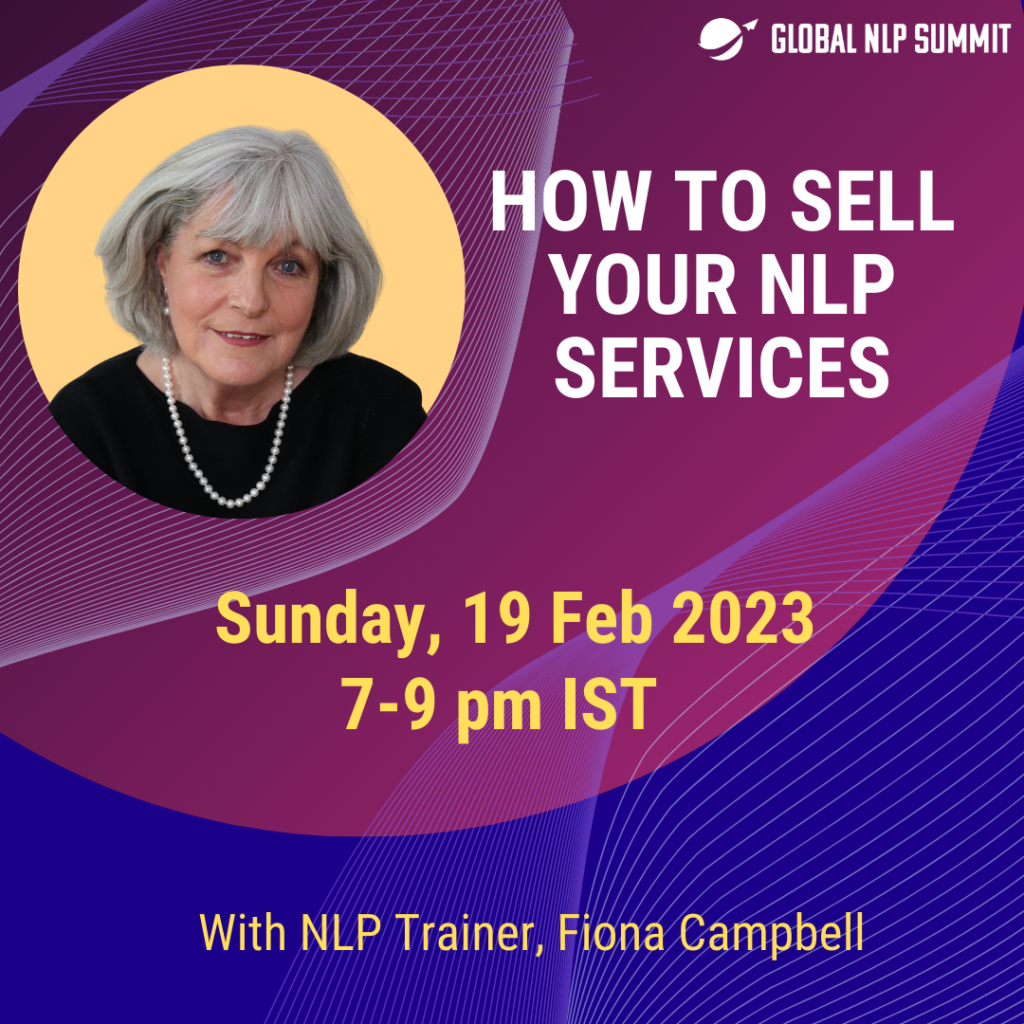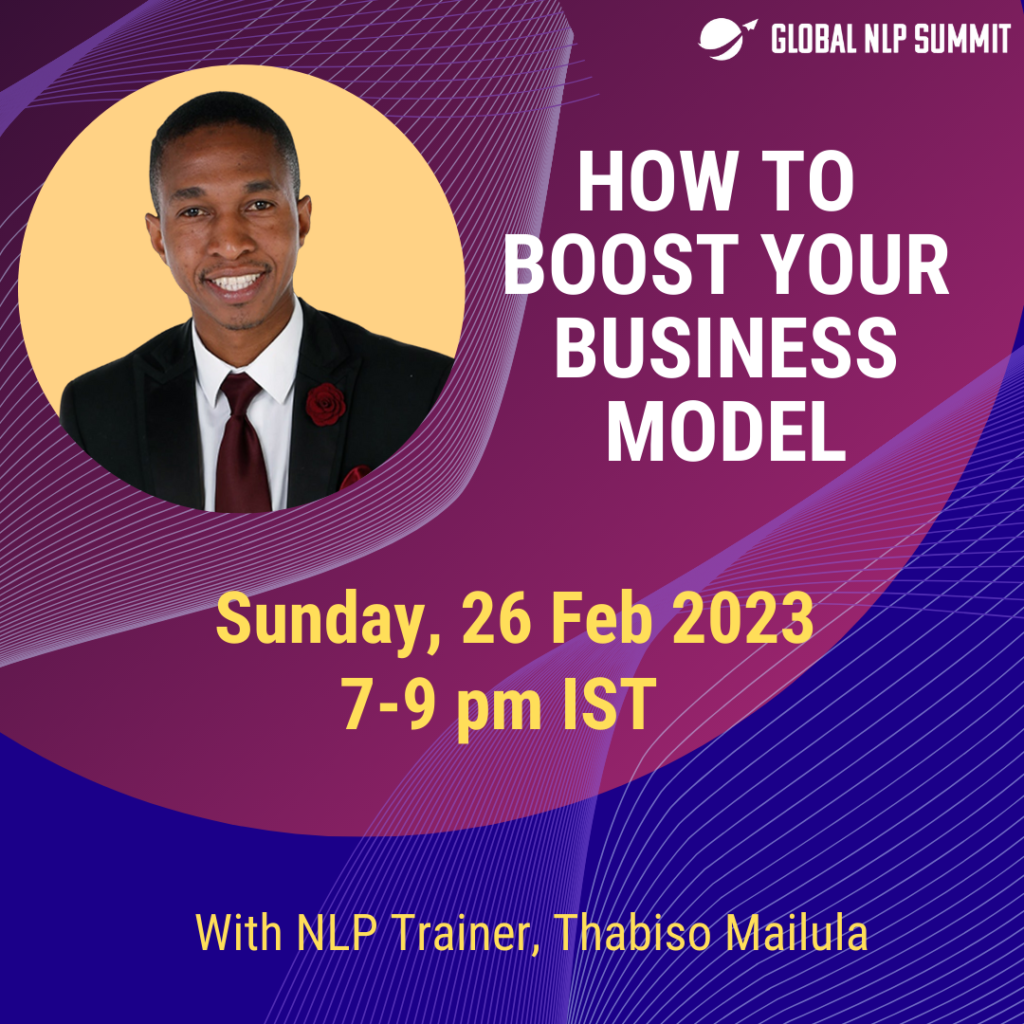 HOW TO BOOST YOUR BUSINESS MODEL
NLP Business Masterclass with Thabiso Mailula
Thabiso Mailula is the International Ambassador for ANLP in South Africa. His mission, is to empower, inspire and motivate people to make the changes they want in their lives, relationships and the world they live in. And this is exactly what Thabiso has been doing for over 8 years through his successful NLP business.
Thabiso brings together the worlds of passion and profit in this NLP Business Masterclass.
He will engage you with a simple framework that you can apply to boost your business model. Through this session, you will learn how to "live all of your dreams, full-time".
HOW TO GET HIGH-PAYING
COACHING CLIENTS
NLP Business Masterclass with Andreas Dorn
Andreas Dorn has been one of the top NLP trainers in the world since 2003. He deeply believes that everybody has the right to create a positive life, in happiness and total fulfillment. It's with this purpose that Andreas has trained 1000s of people across Asia-Pacific, and coached politicians, CEOs, directors, and other people to help them realize their dreams and potential.
To create this impact, Andreas has created strategies to help his business thrive while constantly growing his client base.
In this NLP Business Masterclass, he will focus on how you can get high-paying coaching clients without getting into the technicalities of marketing.